Kentia Palm
Regular price
Sale price
£89.99 GBP
Unit price
per
Sale
Sold out
The Kentia Palm is a species of flowering plant in the palm family, Arecaceae, endemic to Lord Howe Island in Australia. It is also widely grown on Norfolk Island. It is a relatively slow-growing palm, eventually growing up to 10 m (33 ft) tall by 6 m (20 ft) wide. Its fronds can reach 3 m (10 ft) long.
as potted plants Kentias are fairly tolerant of neglect: they can withstand low-light conditions, low humidity, infrequent watering and cool temperatures. However, it is advisable to give Kentias bright, indirect light to encourage growth and a more robust appearance; Kentias placed in dark corners with little natural light tend to look leggy and grow very slowly. In the northern hemisphere, a northern or northeastern window is best, as greenhouse-grown Kentias cannot tolerate direct sun and will sunburn if placed in such an exposure.
If used indoors, make sure to mist the fronds three times a week with rainwater to raise the humidity levels and keep the fronds looking green and healthy.
DOES NOT COME WITH POT 
Pot price is £25
Share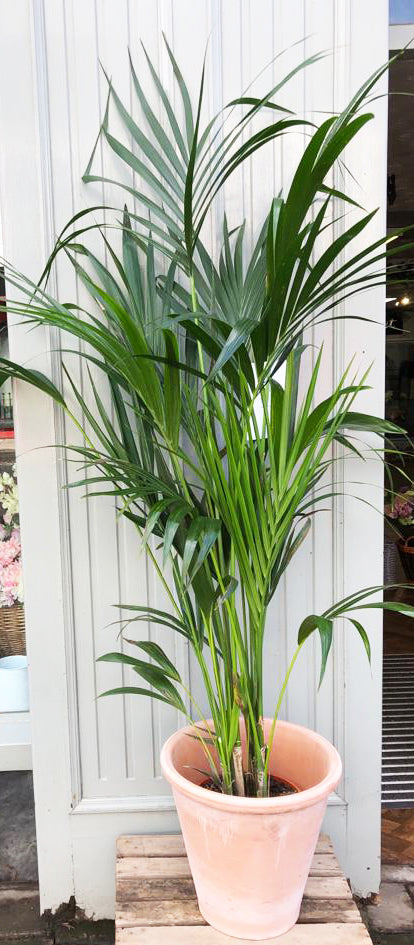 Getting married?
We've got some great floral packages for weddings in 2022. Talk to our floral design experts and choose the perfect flowers to suit your big day.
Wedding packages
Same day local delivery

Order before 11am and we can deliver locally on the same day for a small fee.

Save your order

Create an account at checkout and we'll remember your details. so it's super simple to re-order.